The LA-CoNGA Physics Hackathon was a three-day all-virtual hackathon in 2022 aiming to bridge the LA-CoNGA physics academic community with industrial partners in the Latin America region. The event aimed to promote open science and open education principles, and provided a unique opportunity for STEM students to enlarge their academic and non-academic networks.

Timeline
November 2021 - February 2022 = Preparation Phase.
Organizers discussed what they wanted the hackathon to look like, developing a conceptual definition, agenda, and communication strategy. During this time, organizers determined what computing resources would be necessary for the Hackathon they envisioned, and created a central website.
March 1 - 15, 2022 = Intrigue Phase.
Information was released introducing the event and its general objectives in order to garner interest.
March 15 - 30, 2022 = Call for Challenges/Challengers.
Example challenges were presented as inspiration, and regional companies and academic institutions were encouraged to submit challenges. Challenges were reviewed by a selection committee, with seven challengers accepted, on the basis of their relation to the topics of the event, availability of an open dataset, ability to support participants, and commitment to making results of the hackathon open.
April 1 - 30, 2022 = Call for Participants.
Information regarding the registration steps and requirements to participate were released, with messages targeting university students in Latin America. Those interested could register using a Google Form.
May 5, 2022 = Pre-Hackathon Get-Together
Participants were given the opportunity to interact with one another in an informal environment before the start of the event. A number of activities were offered, including icebreakers, polls, a mindfulness yoga session, and karaoke.
May 6 - 8, 2022 = Hackathon
Online, participants organized into groups and chose from a series of presented challenges. They were given three days to develop and present their solution. During the three days, participants could also attend a series of talks by experts related to data science, web application creation, science communication and open access.
More details on the schedule and speakers can be found here and more details about the challenges selected and the results of the hackathon can be found here.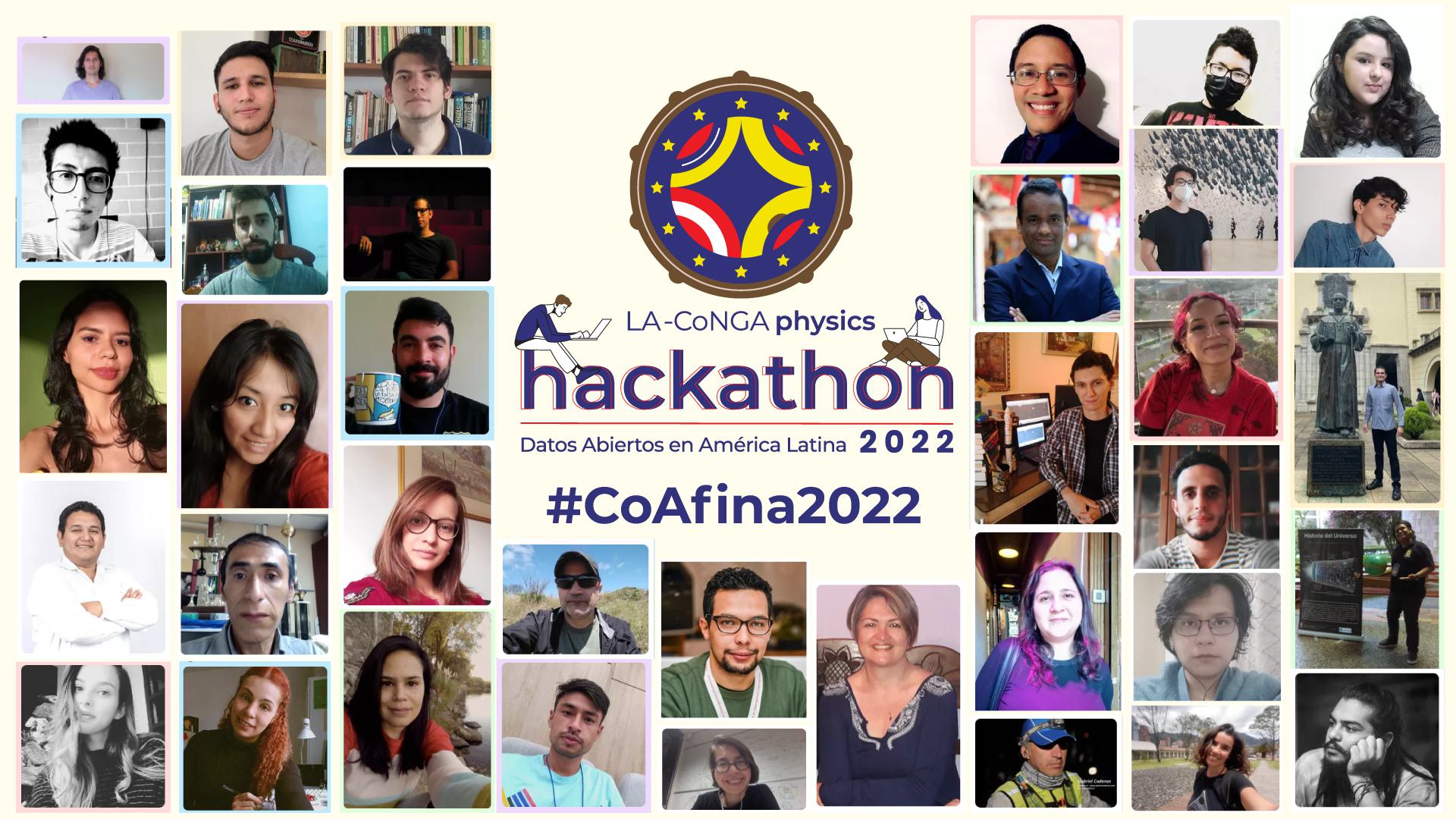 Sociotechnical infrastructure
The term "sociotechnical infrastructure" acknowledges how complex and interconnected systems of human relations, technical objects and tools, and underlying processes are shape and are shaped by each other. In this section, we highlight the systems that event organizers established in order to thoughtfully organize and run their events.
Organization of the organizers
Work was divided between four teams: a team in charge of coordination, a communications team, a team tasked with graphic design and outreach, and a team managing subtitling and captions.
Raising Awareness
The event was advertised using LA-CoNGA networks, along with social media platforms like Instagram, Facebook, and Twitter. The majority of registered participants reported finding out about the hackathon through social networks, although a significant portion reported learning about it through their personal connections or university.
Organizers continued to promote visibility of the event during and after the event concluded. During the hackathon, organizers spread information on event programming through daily posts and videos. Graphics on the winning teams were released on the last day of the hackathon along with a video summary in which hackathon participants and challengers recounted their experience.
Conference Software
Synchronous activities during the hackathon took place over Zoom, with sessions recorded and made available on YouTube. Live captions were implemented for Zoom calls.
Communication between participants occurred through a Discord channel, which remains an active space for participants to share information and opportunities. Additional tools like Padlet were used for collaboration and communication.
A repository is available on GitHub containing materials related to the hackathon.
Reaching new audiences
Individuals from across thirty universities and nine countries initially registered for the event, with backgrounds spanning various fields and levels of education. Participants came primarily from a physics background, followed by computer science, engineering, and basic science.
Campaign strategy
The communication team put a special emphasis on designing a campaign strategy to attract participants from a diverse range of backgrounds. This included careful selection of the wording and images used within advertisements, with organizers making sure to use inclusive language, a diverse set of images, and an explicit call for individuals from various fields to participate in the event.
Increasing accessibility
In order to increase accessibility, organizers offered participants the opportunity to opt for financial aid if they met a series of requirements, which included enrollment at a university in Latin America and a demonstrated need for financial aid.
A committee selected those who met the established requirements. Organizers anticipated a greater number of applicants, with funding available to aid thirty participants. Only fourteen participants sent applications which met the base requirements. Of these, thirteen applicants ended up submitting a solution to one of the proposed challenges, and received financial aid.
It's important to note that providing financial aid for students in certain countries proved more difficult than anticipated, due to complicated bank transfers and high inflation rates. Nonetheless, organizers were able to find alternative payment methods, like Paypal and Zelle.
Circumventing unstable internet connections
Some participants struggled with unstable internet connection. In order to bypass this problem, organizers provided financial aid in instances where participants needed to travel to locations with better internet connections, or needed to pay for better internet service.
In addition to financial support, all synchronous activities were recorded, allowing participants to follow along asynchronously in the instance of power outages or poor connectivity.
What's next?
Organizers plan to hold the LA-CoNGA Physics Hackathon Co-Afina in late 2023 or early 2024 depending on funding availability. The Discord channel created for communication between participants continues to be active, and organizers plan to use this channel to reach out and promote the next LA-CoNGA Physics Hackathon.
During this hackathon, only half of those registered ended up participating in the event until the end. While this is not atypical for online events, in the future, organizers hope to design more engaging activities and a more active advertising campaign in order to reach a greater number of participants for the event. Organizers would also like to plan more pre-hackathon activities to allow participants to connect with one another before the event, and to understand the spirit of a hackathon. By implementing these changes, organizers hope to enhance participant engagement and experience.
About LA-CoNGA Physics
LA-CoNGA Physics is a consortium, co-funded by the European Commission Erasmus+ program, that fosters international cooperation among European and Latin American research and academic institutions in advanced physics. The organization works to create virtual learning experiences in international collaborative environments supported by open resources and shared infrastructure. Learn more here.
LA-CoNGA Physics would like to thank everyone who made this event possible: the challengers, the participants, invited speakers and, of course, a big thanks to Code for Science and Society (CS&S Event Fund).
Featured image by Abduh Awab via Unsplash