The Pathways to Open Science program was a virtual event series held in January and February of 2023. Consisting of Community Calls and Coworking hours for Black environmental & marine researchers, the series was created to build community for the future of data intensive science. Through speakers events and community discussions, the event series (alternating community calls and coworking hours held every Thursday) was designed to be a helpful fully-virtual gathering for a varied community of researchers, students, and practitioners.
Timeline
November - January = Preparation Phase
The heavy lifting of the planning for the event series began in November to the end of the year, and mostly focused on preparing for the first Community Call on January 26th, engaging participants, and inviting and meeting with guest speakers for the second and third Community Calls. Event planning was done through weekly synchronous meetings as well as asynchronously via a shared Google Drive and a Slack channel, which helped track pitches to speakers, dates, and notes.
In an effort to thoughtfully engage with students from Historically Black Colleges and Universities (HBCUs), Ileana as lead organizer met one-on-one with HBCU faculty to learn about their student's data science needs and invite them and their students to participate in the event series. Organizers leveraged connections within their network to meet and work with HBCU faculty to produce an experience that would genuinely engage and benefit students. Faculty at seven HBCUs shared about the event series with their students, some offering extra credit for participation. Invitations and program promotional materials were shared after winter break, which they believe was the ideal time to reach out to faculty since people were not yet too busy with activities.
January 26, February 9, February 23 2023 = Community Calls
Online, three bi-weekly Community Calls were held with environmental and marine researcher speakers. The speakers came from private, public, and academic positions and each week covered a different topic: firstly exposing participants to open science and data strategies, then applying those skills for a better tomorrow, and finally the journeys and communities surrounding data science. At the beginning of each session, participants were introduced to Openscapes' Code of Conduct as one way to create a welcoming community space, and at the end, participants reported out what they learned from each other, using Mentimeter to visualize their learnings. Organizers used this as an opportunity for participants to share their feelings and reflections on the topics shared. Speaker's slides and live agenda notes were shared during the event, and these as well as recordings were shared afterwards via the event series website.
Mentimeter from Community Call 1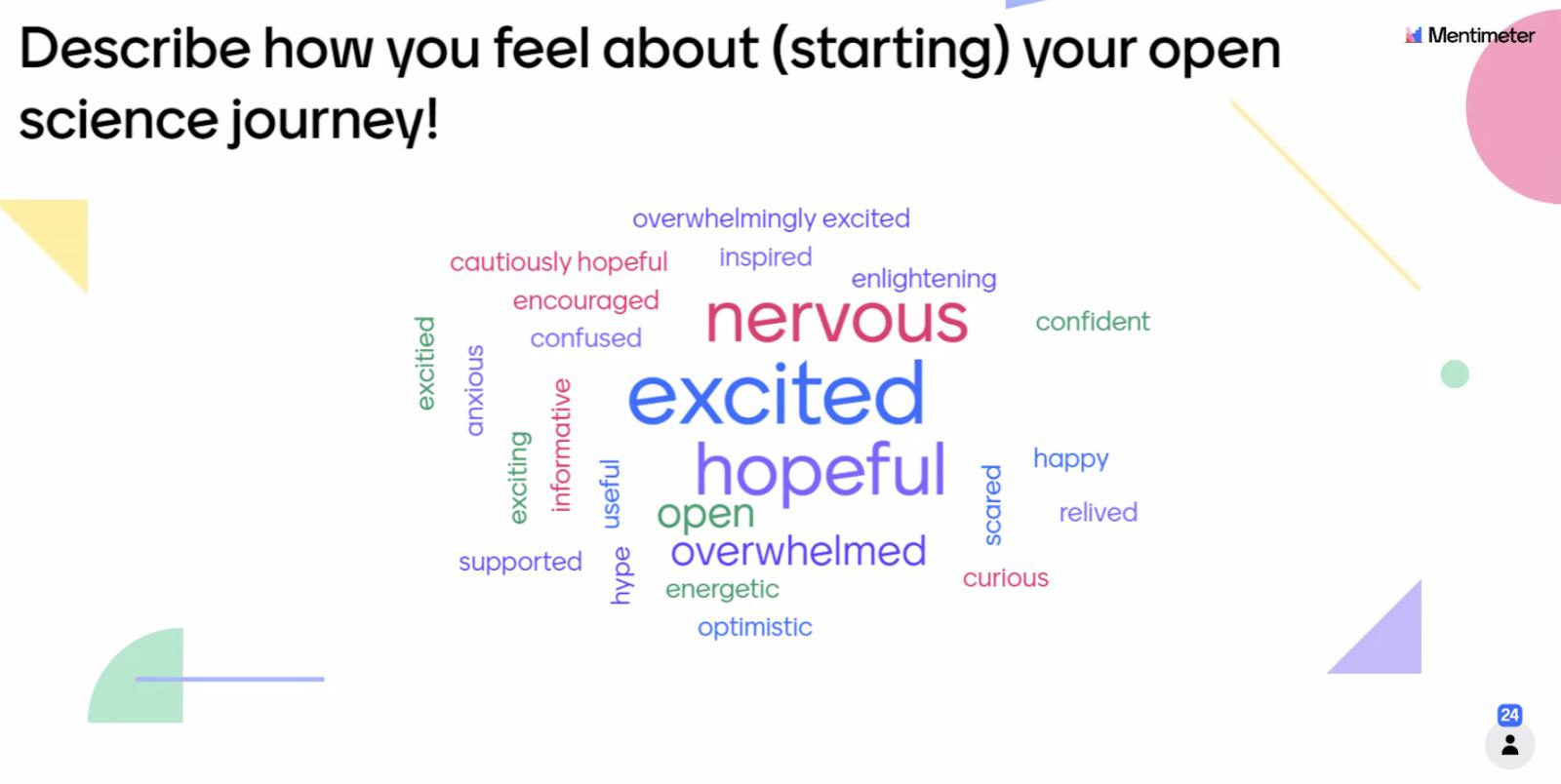 Mentimeter from Coworking Call 1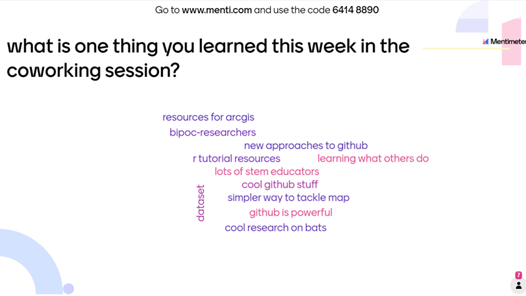 February 2, February 16, March 2 2023 = Coworking Sessions
Participants could join Coworking Zooms to do work alongside others, with opportunities to check in, learn from each other, or get feedback on a problem. Inside each Zoom were a series of breakout rooms like "Quiet Working" or "Data Wrangling" or "Social" that participants could join. The Code of Conduct and Mentimeter were also used during these sessions. Organizers saw participation ranging from 8 to 22 participants and noted that regardless of size, each coworking session resulted in meaningful connections between participants and engagement in sharing relevant resources.
Sociotechnical infrastructure
The term "sociotechnical infrastructure" acknowledges how complex and interconnected systems of human relations, technical objects and tools, and underlying processes shape and are shaped by each other. In this section, we highlight the systems that event organizers established in order to thoughtfully organize and run their events.
Organization of the organizers
The Pathways to Open Science planning team met together synchronously weekly leading up to the event, and also communicated asynchronously via Slack and Google Drive, where they had a folder organized with running meeting notes and spreadsheets. The planning team was made up of Ileana Fenwick (PI, Openscapes), Alex Davis (BWEEMS), and Aneese Williams (BIMS), with support from Stefanie Butland and Julie Lowndes (Openscapes).
Communication
The organizers developed a Quarto website for the event series, which they edited directly and published on Github. The website, made early on in planning, became a useful tool as a place to host links to resources and registration, and continued to grow as events were planned (for example by adding confirmed guest speakers) and after each event by adding resources shared.
Openscapes works towards kinder science, and that was enacted in the thoughtful ways that the organizing committee took care of each other and communicated. As organizers, they were open about when they were facing personal challenges and they were able to authentically take care of each other, set boundaries, and step in to help each other meet deadlines. "We can be super efficient, but also very human in this space," Alex Davis explains. This kinder science approach can also be seen when the organizers established a #shared-joy Slack channel and ways to check-in after coworking sessions for all participants.
Raising awareness and reaching new audiences
Openscapes organizers wanted to bring "intentional caring" to the series, designing events to be welcoming, engaging introductions to open science "for folks at any any stage of their journey." By intentionally connecting to HBCU faculty, the organizers were able to learn about student needs, raise awareness, and welcome new audiences to open science. Organizers used their graphic design budget to create a one-page PDF flier that could be emailed or printed in classrooms, and then converted that invitation to social media graphics for organizations or networks to advertise, such as BWEEMS or BIMS. Ileana Fenwick was even able to present at the first-ever BWEEMS conference two weeks before the beginning of the event series, a well-timed opportunity to share the event. Alex Davis, Aneese Williams, and Fenwick were available for questions after the presentation, and felt great afterwards. "We were able to invite people who otherwise would not have heard about the Event series," Fenwick says "Or probably wouldn't have had the same motivation to go."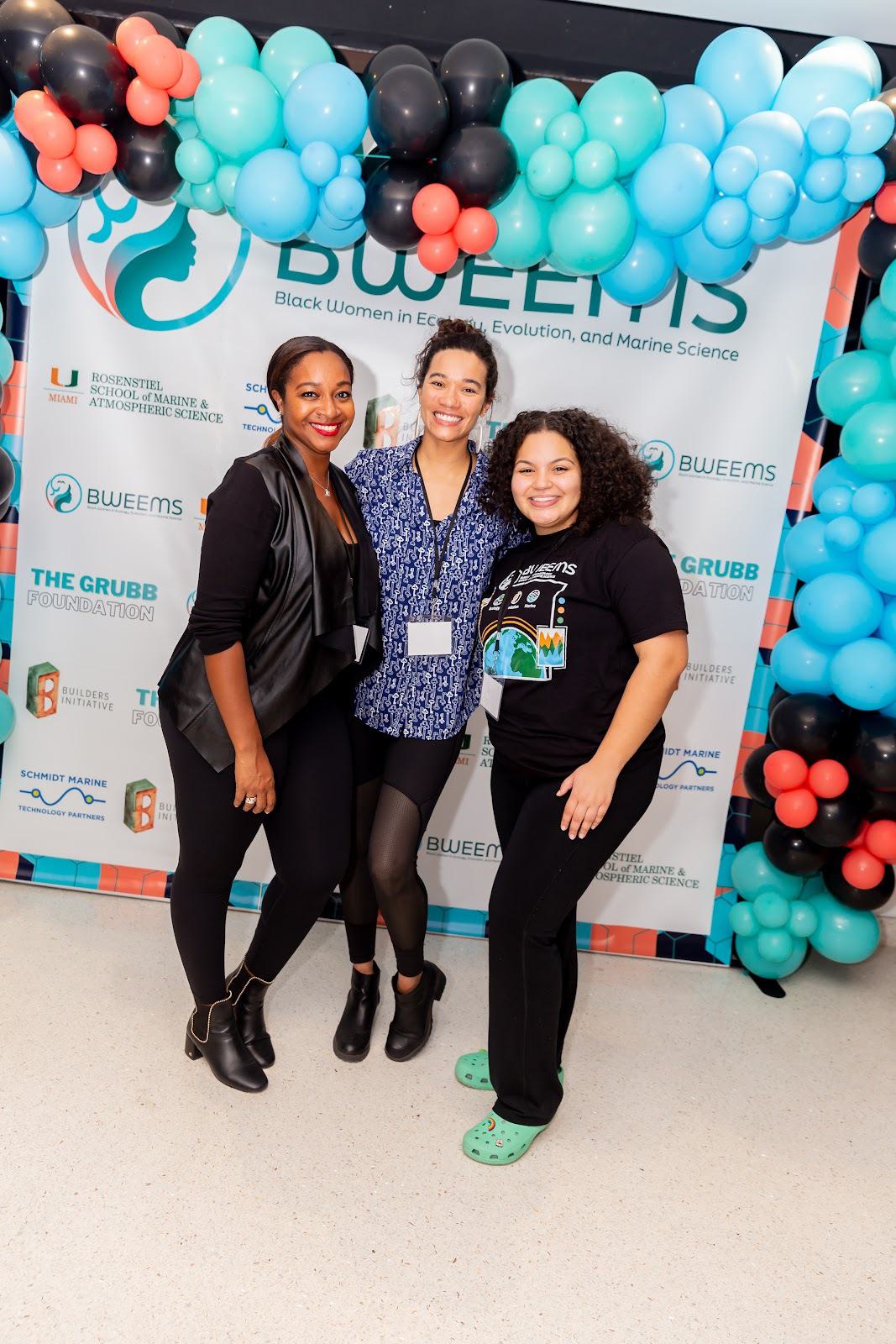 Having six events—three community calls and three coworking sessions, one event each week—helped build momentum for some participants, who came to one event and quickly snowballed into joining more. Others attended fewer events but had the opportunity to learn about what open science was and how it could relate to their work, and see folks like them doing open science in their work.

Software
Participants registered on Eventbrite and met via Zoom, using the same link for all events. Organizers were able to leverage a lot of the existing digital infrastructure from Openscapes: their already active Slack, their organized Google Drive, and Zoom account: it worked for them, but if they were starting fresh they would have had to dedicate more time and any budget to software.
What's next?
For Ileana Fenwick, the event series helped clarify the need for open science engagement, especially with Black and HBCU researchers: Fenwick heard from participants that this was their first exposure to open science, or their first time feeling excited to jump back into data, and that enthusiasm won't end with the event of the event series.
To continue after the sessions officially ended, participants were encouraged to join the Openscapes Slack, where they would automatically also join a private #pathways-to-open-science channel that includes participants from any of the six events in the series. As more participants migrate over to Slack, organizers will continue to share resources there and consider what future iterations of the Pathways to Open Science series could look like annually. "There's always going to be this need to teach this work in an equitable way," Fenwick says. "I think we're all on board to keep the work going, and to certainly keep working with one another."
Openscapes is launching a new open data science coaching program called Openscapes Reflections in May that hopes to welcome many of the participants from the Pathways to Open Science event series. We know that it takes time and trust to build community and skills so we can contribute more efficiently and joyfully to science, and we invite you to join us.
About Openscapes

At Openscapes, we believe open science can accelerate interoperable, data-driven solutions and increase diversity, equity, inclusion, and belonging in research and beyond. Our main activity is mentoring environmental and Earth science teams in open science to help uncover data-driven solutions faster. You can learn more via our website, Twitter, and mailing list.
You can read more about the planning, implementation, and reception of Pathways to Open Science from this Openscapes blog report.
Featured image by Benjamin L. Jones via Unsplash